Rishikesh Camping Packages
Rishikesh camping is one of the most searched activities on the internet. We provide best rates and discounted packages for Rishikesh camping to groups, family, corporate and individual clients.

Enjoy the natural and beautiful stay near dense Jungle with amazing waterfall facility in camp/Tent facility provided by us. To enhance your stay and make it wonderful, these tents have been decorated to provide you a homely stay. Each tent can accommodate three beds that are available in the fully charging and well-furnished interior and lightening and with the deluxe facility. Nutritious food is served, that is cooked in tent kitchen and served to you steaming hot with appropriate restaurant facility.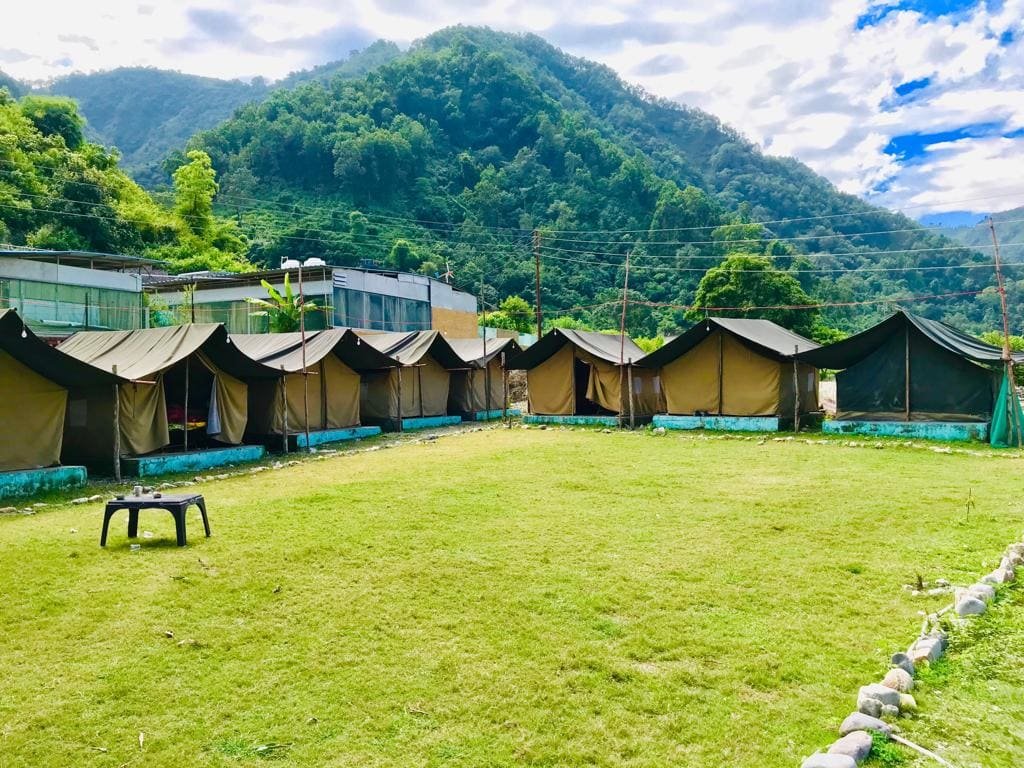 Corporate Group, School / College Group Tours / Family Group Camping Rishikesh
Camping – River Rafting – Bungee Jumping
Resort – Camps – Hotel Booking or Transport Rates
Rishikesh Tour Packages – Rishikesh Travel Packages
Rishikesh is the first name that comes to mind when one thinks of thrilling adventure activities in India. It is one destination that offers a perfect combination of tranquility and adrenaline rush. With a wide range of activities like Whitewater Rafting, Bungee Jumping, Zip-Line, Rock-Climbing, Rappelling and Trekking, it draws thousands of people from the world over. Rishikesh first came to be known as the Yoga Capital of India with many people visiting its spiritual centers in search of spiritual enlightenment as well as learning Yoga techniques. Today it is the adventure hub and the place to be for all thrill seekers. It has many resorts and beach side camps offering accommodation and various adventure activities.
1. Twin and Triple Sharing Tented Accommodation
2. 3 Meals- 1 Lunch, 1 Dinner, 1 Breakfast
3. 1 Rafting Session, Body surfing, Cliff Jump
4. Camp Activities- VolleyBall, Rock Climbing, Rappelling, Hiking
5. Morning/Evening Tea
6. Bonfire
1. Any kind of Insurance
2. Any kind of Transportation (Rafting Transfers)
3. Expenses of personal Nature