Bungee Jumping in Rishikesh – 83 metres
Bungee Jumping in Rishikesh offers 1st fixed platform Bungy (also called Bungee) in Rishikesh, India. A Cantilever platform built over a rocky cliff looking over a rocky river Huel, a tributary of River Ganga. Jump with rubber chords tied up to your ankle and experience the adrenaline rush like nothing you've seen prior. Bungee Jump Height – 83 Metres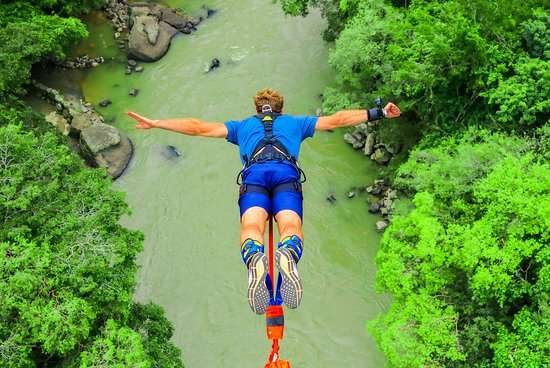 Giant Swing is carried out from the same platform of the Bungee Jump. But instead of attaching a cord to your ankles, a seat harness is provided and two ropes are attached to it. So instead of a free fall after the jump, the ropes attached to the harness start swinging you like a pendulum hence acting like one Giant Swing tied from the height of 83 Mtrs. The activity can also be done by two people at the same time.
Giant Swing Height: 83 Mtrs
We have fixed a hard wire from one end of the valley to the other. This wire is more than a kilometre long and there is a large apparatus attached to it. You are harnessed to this apparatus which is released to gravity running on the wire from the height of 120 mtrs to achieve the speed of upto 160 kmph. Imagine yourself piercing through the air at such high speed. This is undoubtedly one of the most exciting activities offered by us. The apparatus you are harnessed to is then slowly brought back to the starting point. Flying Fox in Rishikesh is usually done by three persons at a time. However, if you desire you can pay extra to do it alone.
Flying Fox Height: 120 Mtrs; Length: 1km; Speed: upto 160kmph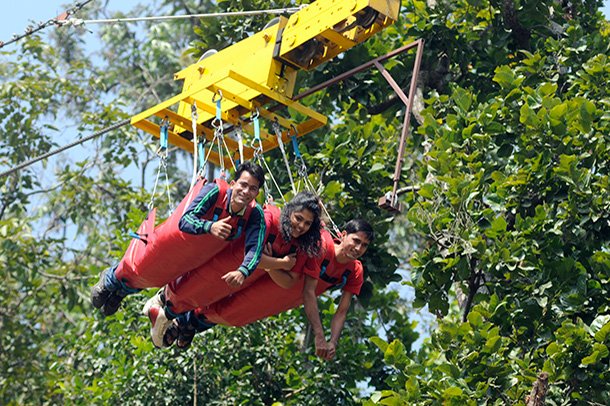 Basic Info
Age: Minimum 12 yrs
Weight: Minimum 35 kgs and Maximum 120 kgs
Reporting Time: 9 AM
Weekly off: Tuesday Closed
Bungy Location: Mohanchatti (25 kms from Rishikesh)
| Activity Type | Cost Per Person |
| --- | --- |
| | |
| Bungy Coach (Optional) From Rishikesh Office and Back | |
| | |
| | |
| Flying Fox (If Doing Alome) | |
| Flying Fox (Tandem Or Triple) | |
Note:
Prices are subject to change without prior notice.

Reporting Time is 9 AM and Average time to complete the activity is 3 to 4 hrs depending on availability.

Local Transfers from Tapovan to Bungy Station (to / fro) @  300 / person extra.

Charges for Video (DVD) of the Activity, if required will be extra.